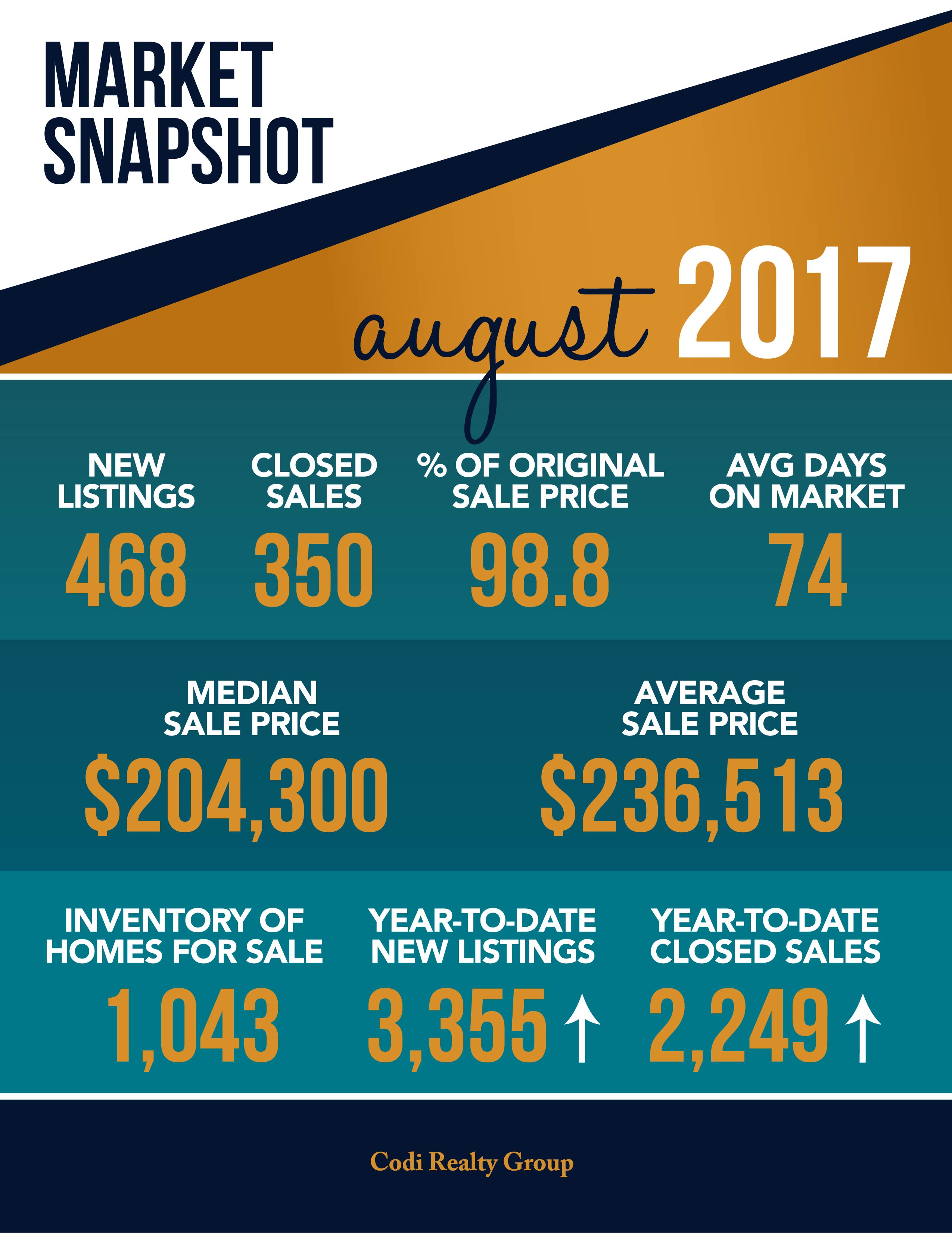 Monthly Market Indicators
August tends to mark the waning of housing activity ahead of the school year. Not all buyers and sellers have children, but there are enough parents that do not want to uproot their children during the school year to historically create a natural market cool down before any actual temperature change. Competition is expected to remain fierce for available listings. Savvy sellers and buyers know that deals can be made well into the school months, as household formations take on many shapes and sizes.
New Listings in Sioux Falls decreased 3.9 percent to 468. Closed Sales were up 0.3 percent to 350. Inventory levels fell 16.2 percent to 1,043 units.
Prices continued to gain traction. The Median Sales Price increased 7.5 percent to $204,300. Days on Market was down 6.4 percent to 74 days. Sellers were encouraged as Months Supply of Homes for Sale was down 23.3 percent to 3.6 months.
The prevailing trends lasted through summer. This was expected, since there have not been any major changes in the economy that would affect housing. Factors such as wage growth, unemployment and mortgage rates have all been stable. Every locality has its unique challenges, but the whole of residential real estate is in good shape. Recent manufacturing data is showing demand for housing construction materials and supplies, which may help lift the ongoing low inventory situation in 2018.
Housing Supply Overview
Although new construction has yet to come to the rescue of low inventory, there are signs that demand for construction materials is high and that previous measurements of low construction activity have been weighed down by the public sector not private, residential building. For the 12-month period spanning September 2016 through August 2017, Closed Sales in Sioux Falls were up 2.1 percent overall.
The overall Median Sales Price was up 7.1 percent to $199,746.
Market-wide, inventory levels were down 20.6 percent. The construction type that lost the least inventory was the New Construction segment, where it decreased 14.6 percent. That amounts to 3.6 months supply for Single-Family homes and 3.9 months supply for Condos.
– 10k Research & Marketing