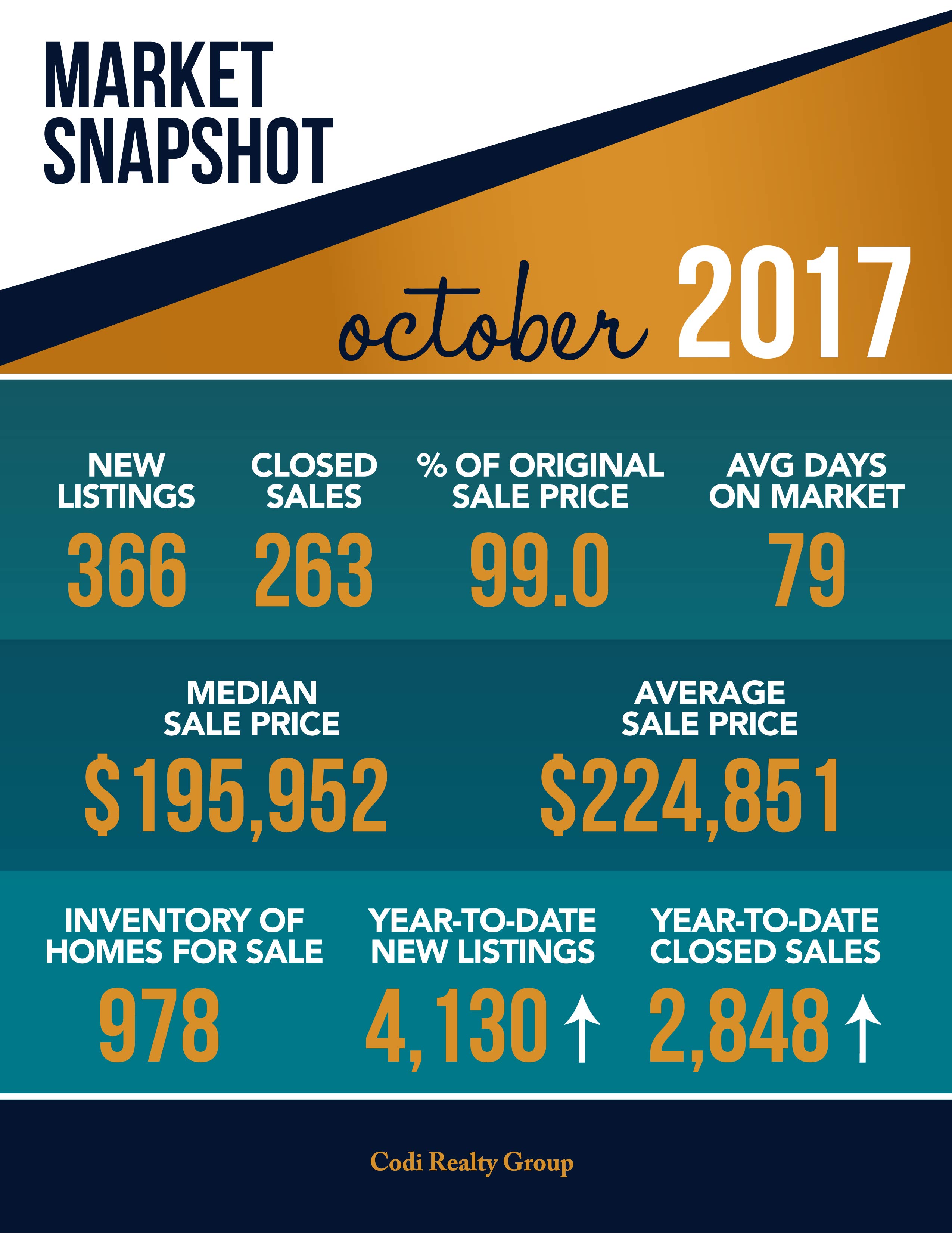 Monthly Market Indicators
It has been several months since news cycles have touched upon housing in any sort of sensationalistic headline grab that was common during the boom-and-bust atmosphere of a decade ago. During that tumult, heady price increases gave way to a Great Recession and foreclosure crisis. Then we entered into a period of healing and eventual recovery that we are still enjoying. For residential real estate in 2017, fewer headlines have meant mostly good news.
New Listings in Sioux Falls decreased 1.9 percent to 366. Closed Sales were down 15.7 percent to 263. Inventory levels fell 13.0 percent to 978 units.
Prices continued to gain traction. The Median Sales Price increased 6.5 percent to $195,952. Days on Market was down 4.2 percent to 79 days. Sellers were encouraged as Months Supply of Homes for Sale was down 17.3 percent to 3.4 months.
Although inventory levels are low in many markets, there has largely been enough listing and building activity, or at least conversation about future activity, to keep prices from skyrocketing toward another bubble. Low affordability has started to become a recent topic of conversation and is definitely worth watching. But with a healthy economy, level of demand and national unemployment rate, sellers are going to be hard-pressed to lower prices.
Housing Supply Overview
Supply will dip for the remainder of the year, but there are some hopeful signs that we may see a bump in the new year. To say that more inventory will immediately impact housing markets is premature, especially if affordability continues to drop and prices continue to rise. For the 12-month period spanning November 2016 through October 2017, Closed Sales in Sioux Falls were up 0.5 percent overall.
The overall Median Sales Price was up 6.5 percent to $199,000.
Market-wide, inventory levels were down 14.7 percent. The construction type that lost the least inventory was the New Construction segment, where it decreased 13.3 percent. That amounts to 3.4 months supply for Single-Family homes and 3.9 months supply for Condos.
– 10k Research & Marketing