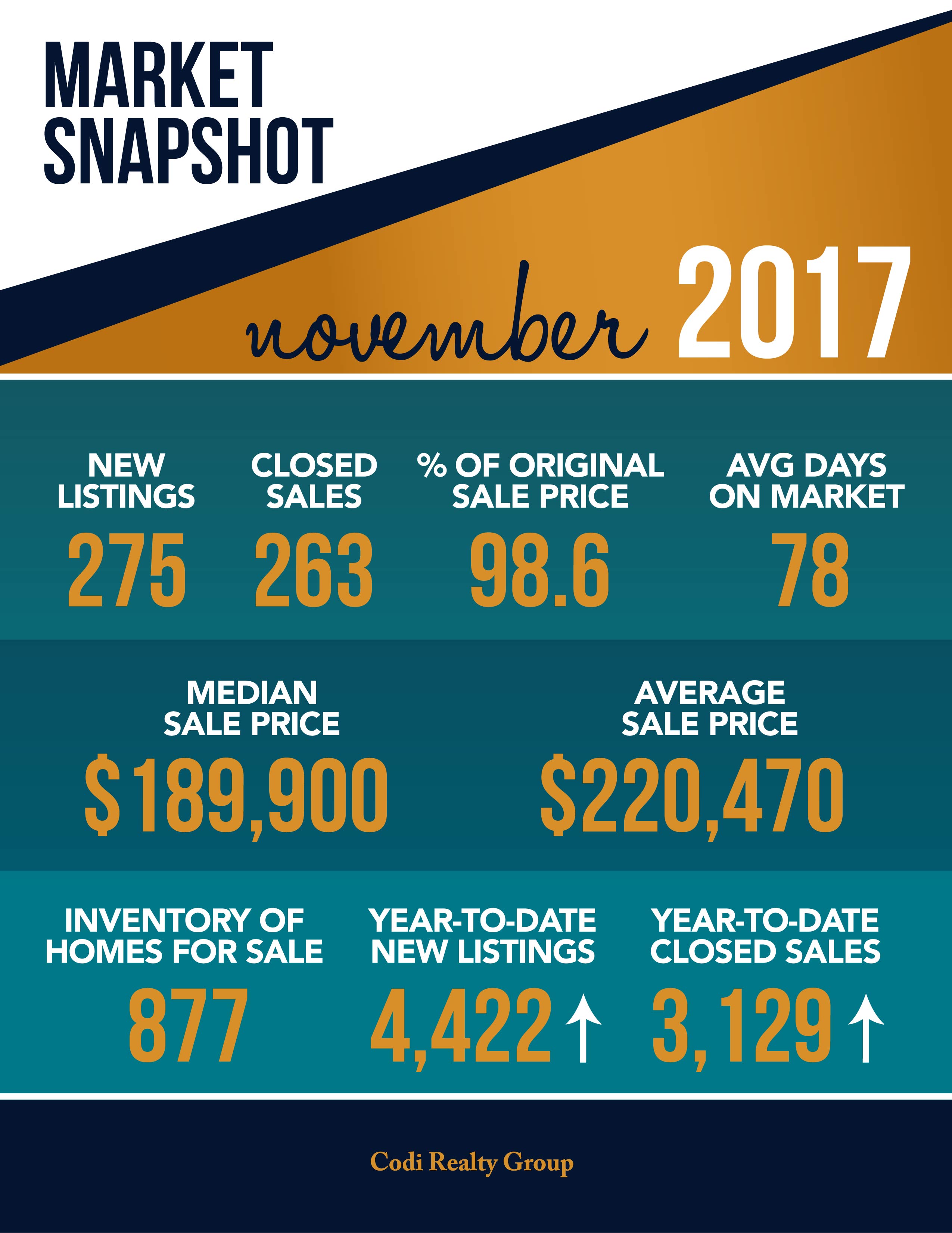 Monthly Market Indicators
The facts of residential real estate have remained consistent in 2017. In year-over- year comparisons, the number of homes for sale has been fewer in most locales, and homes have been selling in fewer days for higher prices. This hasn't always been true, but it has been a common enough storyline to make it an overarching trend for the year.
New Listings in Sioux Falls increased 2.6 percent to 275. Closed Sales were up 27.1 percent to 263. Inventory levels fell 17.0 percent to 877 units.
Prices continued to gain traction. The Median Sales Price increased 2.6 percent to $189,900. Days on Market was down 2.6 percent to 78 days. Sellers were encouraged as Months Supply of Homes for Sale was down 22.0 percent to 3.0 months.
New tax legislation could have ramifications on housing. The White House believes that the tax reform bill will have a small impact on home prices, lowering them by less than 4 percent, and could conceivably boost homeownership. The National Association of REALTORS® has stated that eliminating the mortgage interest deduction could hurt housing, as the doubled standard deduction would reduce the desire to take out a mortgage and itemize the interest associated with it, thus reducing demand. This is a developing story.
Housing Supply Overview
The primary housing storyline for the past two years remains the same. Demand is high, supply is low and interest rates have been steady. There are a few signs that indicate an increase in the number of homes for sale in 2018. For now, inventory remains low in most submarkets. For the 12- month period spanning December 2016 through November 2017, Closed Sales in Sioux Falls were up 2.9 percent overall.
The overall Median Sales Price was up 5.9 percent to $197,500.
Market-wide, inventory levels were down 17.2 percent. The construction type that lost the least inventory was the Previously Owned segment, where it decreased 16.3 percent. That amounts to 3.0 months supply for Single-Family homes and 3.8 months supply for Condos.
-10k Research & Marketing