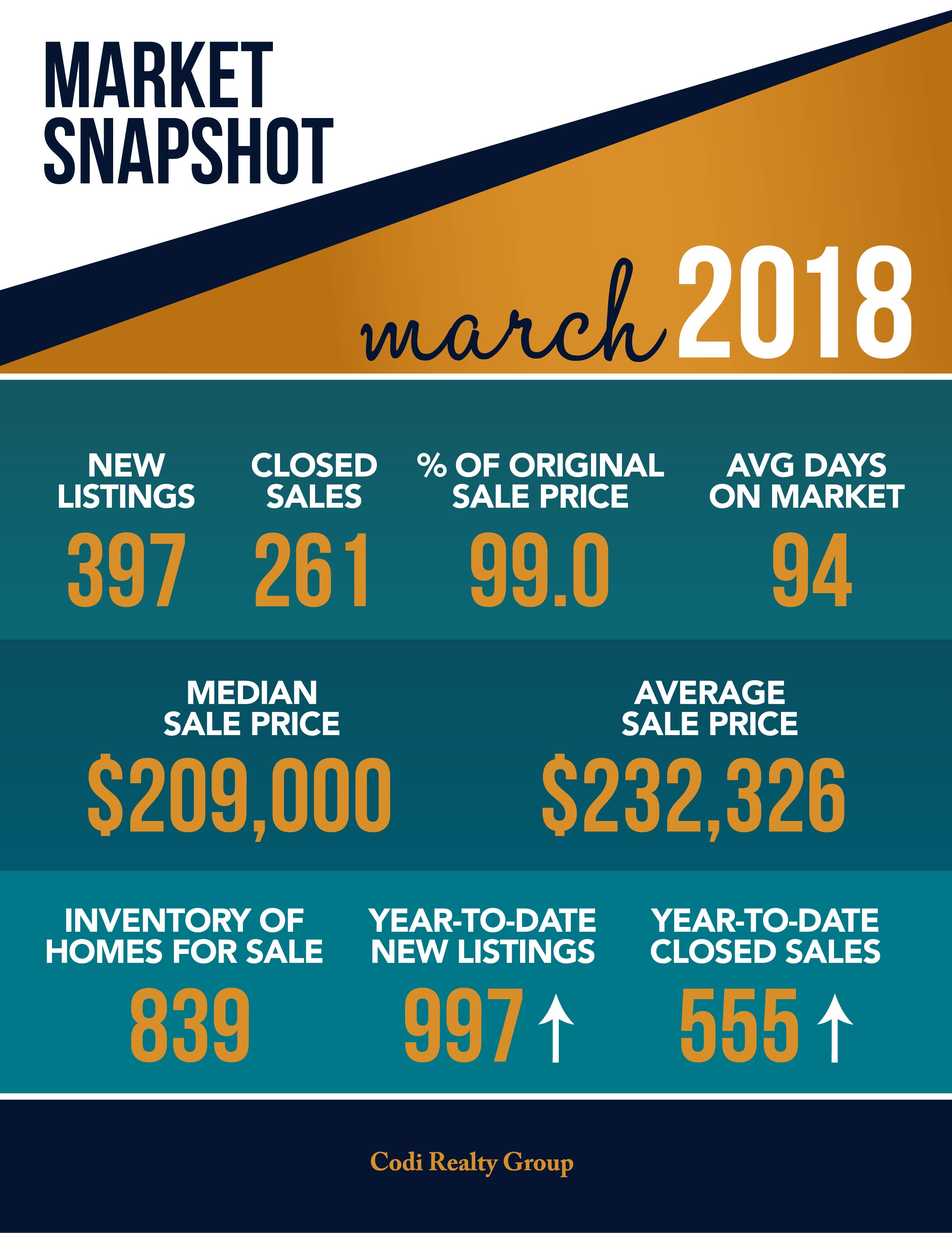 Monthly Market Indicators
New residential real estate activity has been relatively slow in the first quarter of 2018, yet housing is proving its resiliency in a consistently improving economy. Some markets have had increases in signed contracts, but the vast majority of the nation continues to experience fewer closed sales and lower inventory compared to last year at this time. Despite there being fewer homes for sale, buyer demand has remained strong enough to keep prices on the rise, which should continue for the foreseeable future.
New Listings in Sioux Falls decreased 2.5 percent to 397. Closed Sales were up 4.0 percent to 261. Inventory levels fell 19.3 percent to 839 units.
Prices continued to gain traction. The Median Sales Price increased 10.2 percent to $209,000. Days on Market was up 2.9 percent to 94 days. Sellers were encouraged as Months Supply of Homes for Sale was down 25.2 percent to 2.8 months.
The Federal Reserve raised its key short-term interest rate by .25 percent in March, citing concerns about inflation. It is the sixth rate increase by the Fed since December 2015, and at least two more rate increases are expected this year. Borrowing money will be more expensive, particularly for home equity loans, credit cards and adjustable rate mortgages, but rising wages and a low national unemployment rate that has been at 4.1 percent for five months in a row would seem to indicate that we are prepared for this. And although mortgage rates have risen to their highest point in four years, they have been quite low for several years.
Housing Supply Overview
Supply remains low in most markets and categories. Buyer demand continues to show that there is room for growth, but we still have not reached a point where a year-over-year increase in the number of homes for sale can be anticipated. For the 12-month period spanning April 2017 through March 2018, Closed Sales in Sioux Falls were up 0.9 percent overall.
The overall Median Sales Price was up 9.1 percent to $205,000.
Market-wide, inventory levels were down 20.7 percent. The construction type that lost the least inventory was the New Construction segment, where it decreased 16.8 percent. That amounts to 2.9 months supply for Single-Family homes and 3.4 months supply for Condos.
– 10k Research & Marketing