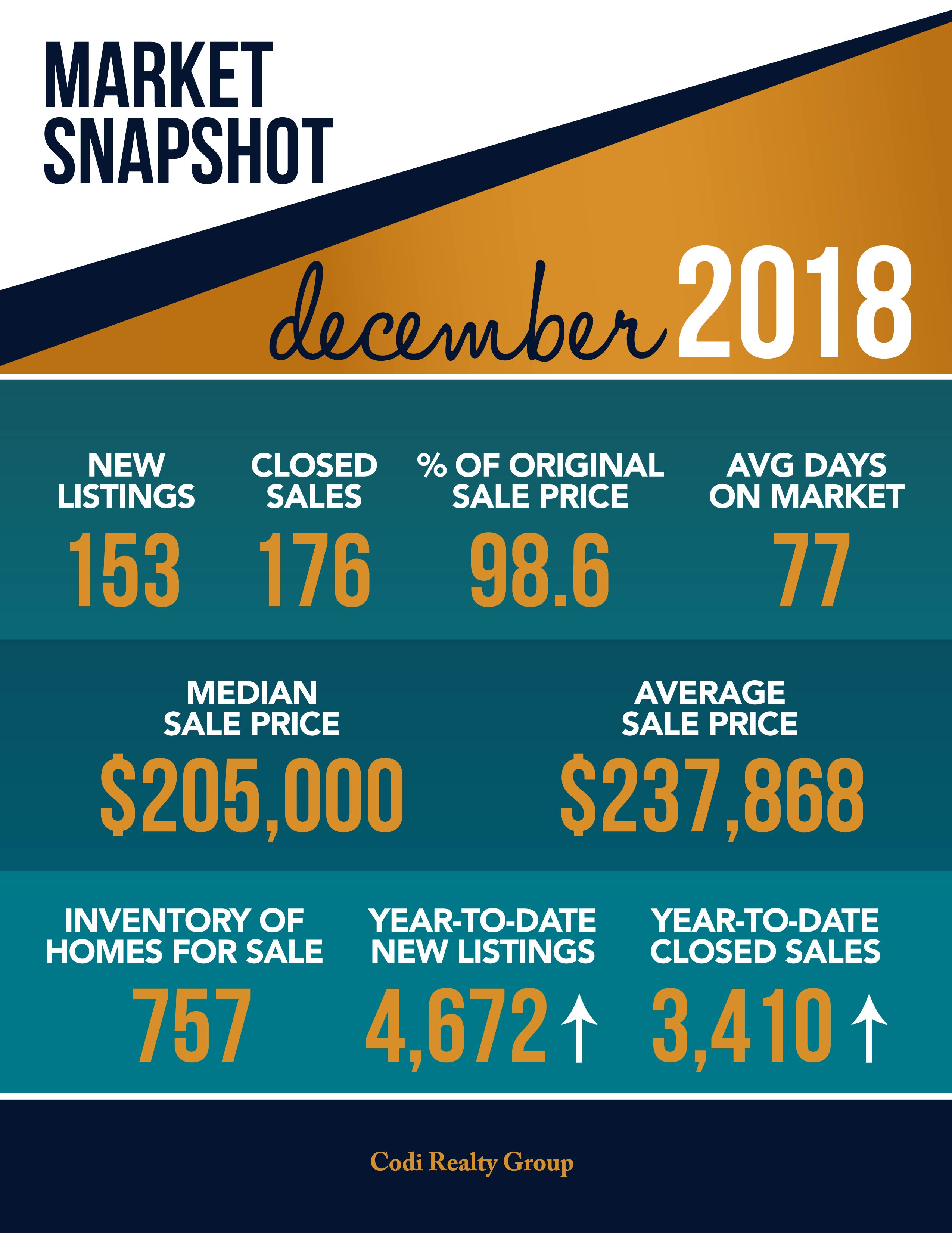 Monthly Market Indicators
Home prices were consistently up again in most markets in 2018 but at reduced levels compared to recent years. High demand for fewer homes for sale fueled price increases, but evidence is mounting that inventory will finally improve in 2019. This may apply some downward pressure on prices for beleaguered home buyers. A fourth interest rate hike by the Federal Reserve in 2018 spooked the stock market to close out the year. The Fed has indicated that the number of rate increases in 2019 will be halved, which may be of little comfort to an already compressed consumer.
New Listings in Sioux Falls decreased 10.0 percent to 153. Closed Sales were down 31.5 percent to 176. Inventory levels fell 13.0 percent to 757 units.
Prices continued to gain traction. The Median Sales Price increased 5.1 percent to $205,000. Days on Market was down 0.8 percent to 77 days. Sellers were encouraged as Months Supply of Homes for Sale was down 14.8 percent to 2.6 months.
Unemployment rates remained remarkably low again in 2018, and wages continued to improve for many U.S. households. It is generally good for all parties involved in real estate transactions when wages grow, but the percentage of increase, on average, has not kept pace with home price increases. This created an affordability crux in the second half of 2018. Housing affordability will remain an important storyline in 2019.
Housing Supply Overview
Housing affordability was a growing concern in 2018, and that is expected to intensify in 2019. Although inventory is poised to improve in 2019, the homes that become available may prove to be too costly for first-time buyers to afford. For the 12-month period spanning January 2018 through December 2018, Closed Sales in Sioux Falls were up 0.2 percent overall.
The overall Median Sales Price was up 6.1 percent to $209,000.
Market-wide, inventory levels were down 8.1 percent. The construction type that lost the least inventory was the Previously Owned segment, where it decreased 7.6 percent. That amounts to 2.7 months supply for Single-Family homes and 4.1 months supply for Condos.
– Showing Time