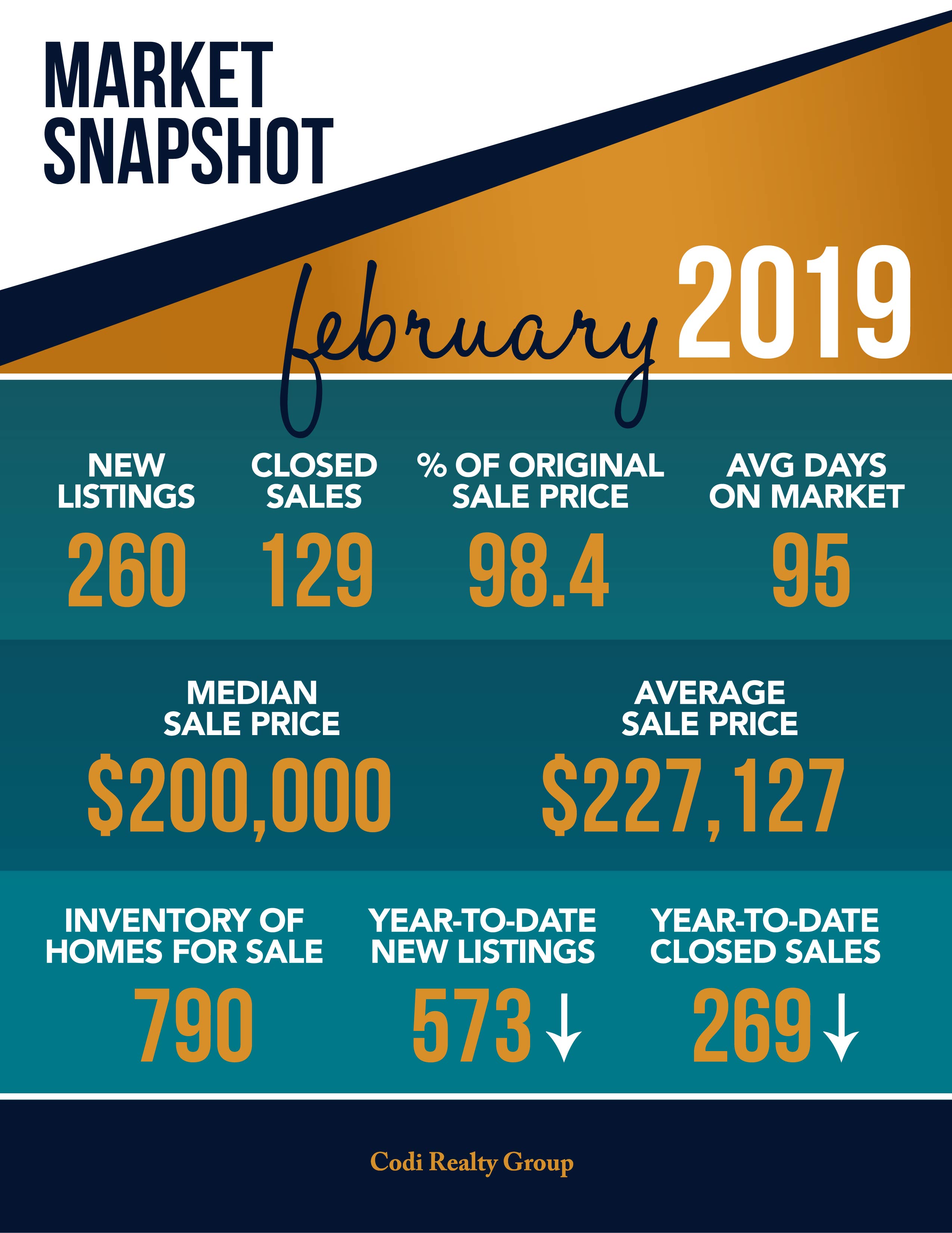 Monthly Market Indicators
It is worthwhile to mention the weather when discussing residential real estate for large portions of the U.S. for February 2019, because this month has turned in some impressively cold, rainy and snowy days that have stalled some buying and selling actions. Nevertheless, housing markets have proven to be resilient despite predictions of a tougher year for the industry. It is still too early to say how the entire year will play out, but economic fundamentals remain positive.
New Listings in Sioux Falls decreased 14.5 percent to 260. Closed Sales were down 14.6 percent to 129. Inventory levels fell 21.6 percent to 790 units.
The Median Sales Price remained unchanged at $200,000. Days on Market was down 9.1 percent to 95 days. Sellers were encouraged as Months Supply of Homes for Sale was down 24.3 percent to 2.7 months.
The National Association of REALTORS® recently reported that national existing home sales were down slightly during January 2019 and that pending sales were up in year-over-year comparisons. It is worth noting that some softening of sales was anticipated, as was a positive sales bounce during January 2019 after a slow end to 2018. Weather-related events have hampered some of the necessary machinations of making home sales during February 2019, yet buyers have shown determination toward achieving their homeownership goals.
Housing Supply Overview
Although inventory continues to show signs of improvement across the country – especially in markets in the western part of the U.S. – the national increase seems to be coinciding with a reduction in sales. This could be because the inventory increases are in higher price ranges that many buyers cannot currently afford. For the 12-month period spanning March 2018 through February 2019, Closed Sales in Sioux Falls were down 9.4 percent overall.
The overall Median Sales Price was up 2.6 percent to $205,000.
Market-wide, inventory levels were down 18.4 percent. The construction type that lost the least inventory was the New Construction segment, where it decreased 14.2 percent. That amounts to 2.7 months supply for Single-Family homes and 4.1 months supply for Condos.
– Showing Time