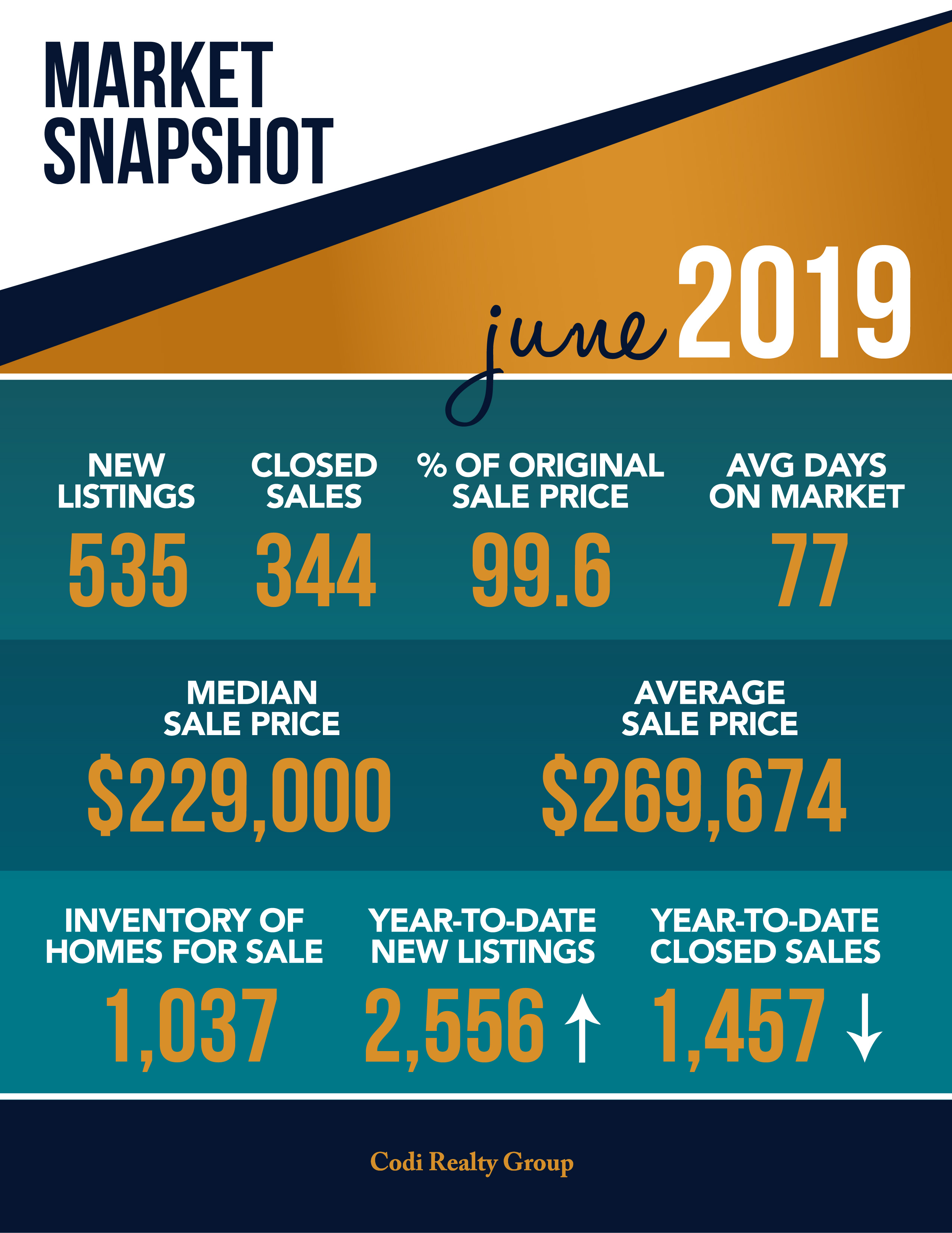 Monthly Market Indicators
As was widely expected, the Federal Reserve did not change the target range for the federal funds rate – currently set at 2.25 to 2.5 percent – during their June meeting. Although the economy is still performing well due to factors such as low unemployment and solid retail sales, uncertainty remains regarding trade tensions, slowed manufacturing and meek business investments.
New Listings in Sioux Falls increased 8.1 percent to 535. Closed Sales were down 18.9 percent to 344. Inventory levels fell 10.0 percent to 1,037 units.
Prices continued to gain traction. The Median Sales Price increased 4.6 percent to $229,000. Days on Market was up 4.9 percent to 77 days. Sellers were encouraged as Months Supply of Homes for Sale was down 9.5 percent to 3.6 months.
In terms of relative balance between buyer and seller interests, residential real estate markets across the country are performing well within an economic expansion that will become the longest in U.S. history in July. However, there are signs of a slowing economy. The Federal Reserve considers 2.0 percent a healthy inflation rate, but the U.S. is expected to remain below that this year. The Fed has received pressure from the White House to cut rates in order to spur further economic activity, and the possibility of a rate reduction in 2019 is definitely in play following a string of increases over the last several years.
Housing Supply Overview
After several years of declining inventory and supply, more and more housing markets are beginning to find their way toward a state of balance in terms of available listings. There is still work to be done, but the situation is not as dire as it once was. For the 12-month period spanning July 2018 through June 2019, Closed Sales in Sioux Falls were down 11.4 percent overall.
The overall Median Sales Price was up 1.9 percent to $214,000.
Market-wide, inventory levels were down 7.1 percent. The construction type that lost the least inventory was the Previously Owned segment, where it decreased 5.8 percent. That amounts to 3.8 months supply for Single-Family homes and 4.7 months supply for Condo-Townhouse.
– Showing Time